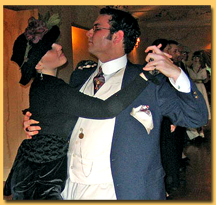 Join us for an elegant afternoon of tea, music and dancing in the ballroom of historic Craftsman-Style Lanterman House in La Cañada/Flintridge.
Music by Ian Whitcomb, Sheila Murphy-Nelson and more.
Full afternoon tea from the Robert Moses
Space is very limited, so get your reservations in early.
Sunday, March 24th 2019
Dance Class: Noon to 1 PM
Dancing and Tea: 1 to 5 PM
Historical attire from 1918 (or thereabouts) is suggested, but not required. For those without historical attire, ladies will to fine with a loose fitting blouse and ankle length skirt and gents with a coat and tie (especially a bow tie).
The Dances
The most common dance is the One Step, which is the easiest ballroom dance ever (it's just walking) and a fine alternative for any dance in 4/4 time. Also on the program are the Tango, the Waltz, the Two Step and the Fox Trot. There will be a dance class in the hour preceding the event (noon to 1) to give you what you need to enjoy the afternoon.


Brown Paper Tickets Ticket Widget Loading...

Click Here to visit the Brown Paper Tickets event page.